Established over 30 years ago, Bedgrove Badminton club is a friendly, social badminton club. We are a very competitive club & active in the local Aylesbury & district badminton leagues. With around 30 members aged between 18-75, we have the benefit of 4 courts in Aylesbury Grammar school sports facilities (Walton Rd, Aylesbury Bucks HP21 7RP)
TUESDAY evenings 8pm-10pm = Experienced League standard badminton club night.
THURSDAY evenings 8pm-10pm = Pay and Play Sessions. NO membership fees, just £5 pay & play! The new Thursday night session is open to all visitors of ANY standard. We will be offering some basic pointers and coaching where possible for anyone who wishes to take it. If not, just turn up and play. There is no minimum standard, so expect a varied & fun badminton evening for all. No need to pre-book, just turn up on the night with £5, indoor non-marking shoes and your own racket. We will supply the courts, shuttles and fun!
We are a very sociable club and tend to have quite a few social gatherings, whether they are meals out or just a night out in general they are well attended and enjoyed by all, partners included.
Come along and visit, all are welcome. Feel free to contact Andy for further details. Telephone, text or email. Please note, we do not currently operate a junior club, we can only take members 18 years & upwards.

Telephone: 01525 240473 or 07766304748
Email: enquiries@bedgrovebadmintonclub.co.uk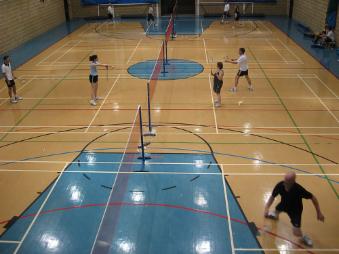 Image above showing our 4 court sports hall facilities.
Bedgrove badminton club aylesbury buckinghamshire bucks council grammar school walton road wendover aston clinton sport sports training competitive matches league county friendly shuttle shuttles feather feathers racquet racket strings phoenix mandeville wednesday tuesday wendover buckingham Chiltern graylings hastoe inglefield Milton Keynes 77 quainton beirton watermead fairford leys shuttlecocks south tring wing wycombe no strings england yonex ashaway wilson matches match players AVDC vale district mens ladies mixed medley games social return to badminton ADBA association
PLEASE NOTE:- Bedgrove Badminton Club do not own the facilities we use at Aylesbury Grammar School. We rent the entire hall on 2 evenings (Tuesday & Thursday) from 8-10pm.
We are unable to rent out single courts by themselves as our sessions are all group play. If you wish to book alternative days & times outside of our 2 sessions, this is also not possible. Please contact the School directly. Click here for School details.
Alternatively see Stoke Mandeville Stadium for single court bookings. Click here for Stadium details.